Congressos
Ars vs Natura. Gardens as topic and stage for discussion on the Anthropocene
14 janeiro até 15 janeiro 2016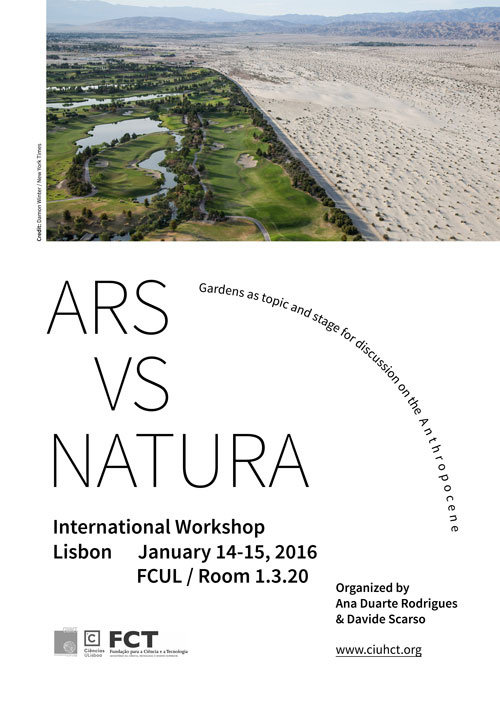 About this workshop

Fig. 1. The Telegarden, 1995-2004, Ars Electronica Museum, Linz Austria

Under the umbrella of Culture versus Nature and the concept of Anthropocene, which argues that at least since the Industrial Revolution, humans have had such an impact over the planet, an effect that threatens its destruction or, at least, the destruction of its ecosystems and life as we know it, the aim of this workshop is to reflect on gardens through these lenses and use its potentialities to find solutions for the desired future planet garden.
A population amounting to 9 billion people in 2100 is what we have to prepare for in a planet with limited resources. The stress felt by over-dimensioned cities and the loss of contact with the natural world are some of the challenges for future generations. An abuse of technology with cities at the frontline is at the heart of the problem, although the solution will probably also come from technology.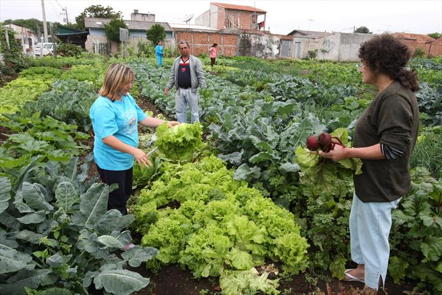 Fig. 2. Communitarian Vegetable garden in Brazil

This duality between culture and nature is at the heart of the definition of gardens as spaces where one operates artificially over nature, therefore opposite to nature. By examining concepts, practices, actors and places in gardens and landscape creations the aim of this workshop is to contribute to an inclusive discussion on Ecocivilization, by arguing for the integration of human wellbeing and ecosystems because we evolve in and with the natural world.
Call for papers
We strongly encourage comparative and transdisciplinary approaches. Potential contributors are invited to submit a paper on the following topics:
Culture versus Nature
The challenges posed by biodiversity and reforestation
The level of artificiality even in the common act of gardening
The manipulation of the environment and the return to our basic need of contact with nature
The English garden and the "natural style"
The villa and the three stages of art over nature in the garden, agricultural fields and countryside
Papers addressing the above topics will be most welcome but papers on questions related to the above topics will also be considered. Please include your name, institutional affiliation, paper title and e-mail address on a separate file in your submission. Please submit an abstract of 300 words or a full paper and a bio note (with 150 words maximum). Submissions should be sent to: amnrodrigues@fc.ul.pt
Participants will be held to a twenty minute presentation limit, followed by ten minutes of discussion after each paper.
English is the working language for oral communications, as well as for abstracts and biographical note submission and papers. There will be some selected papers to publish in HoST (a CIUCHT-affiliated journal) and for the other papers we will publish them as conference proceedings with ISBN. No translation will be provided.
Deadlines for the workshop and publications

Submission of abstracts for the workshop: deadline – 15 October 2015
Final decision for the participation at the workshop – 31 October 2015
Submission of papers: deadline – 31 January 2016
Final decision to be published – 15 February 2016
Publication in HoST – June 2016 (Submission guidelines)
Publication in Gardens and Landscapes of Portugal nr 4 – May 2016
Organizing Committee
Ana Duarte Rodrigues
Davide Scarso
Scientific Committee
Ana Carneiro
Ana Duarte Rodrigues
Ana Isabel Simões
Davide Scarso
Maria Paula Diogo
Scientific Programme
Download programme (pdf / 62,80 KB)