CIUHCT Lectures
#28. The Cabinets of Physics of the Portuguese Royal Household (18th and 19th centuries). Organization, dispersion and lost collections
[Online]
18 March 2021 · 18h00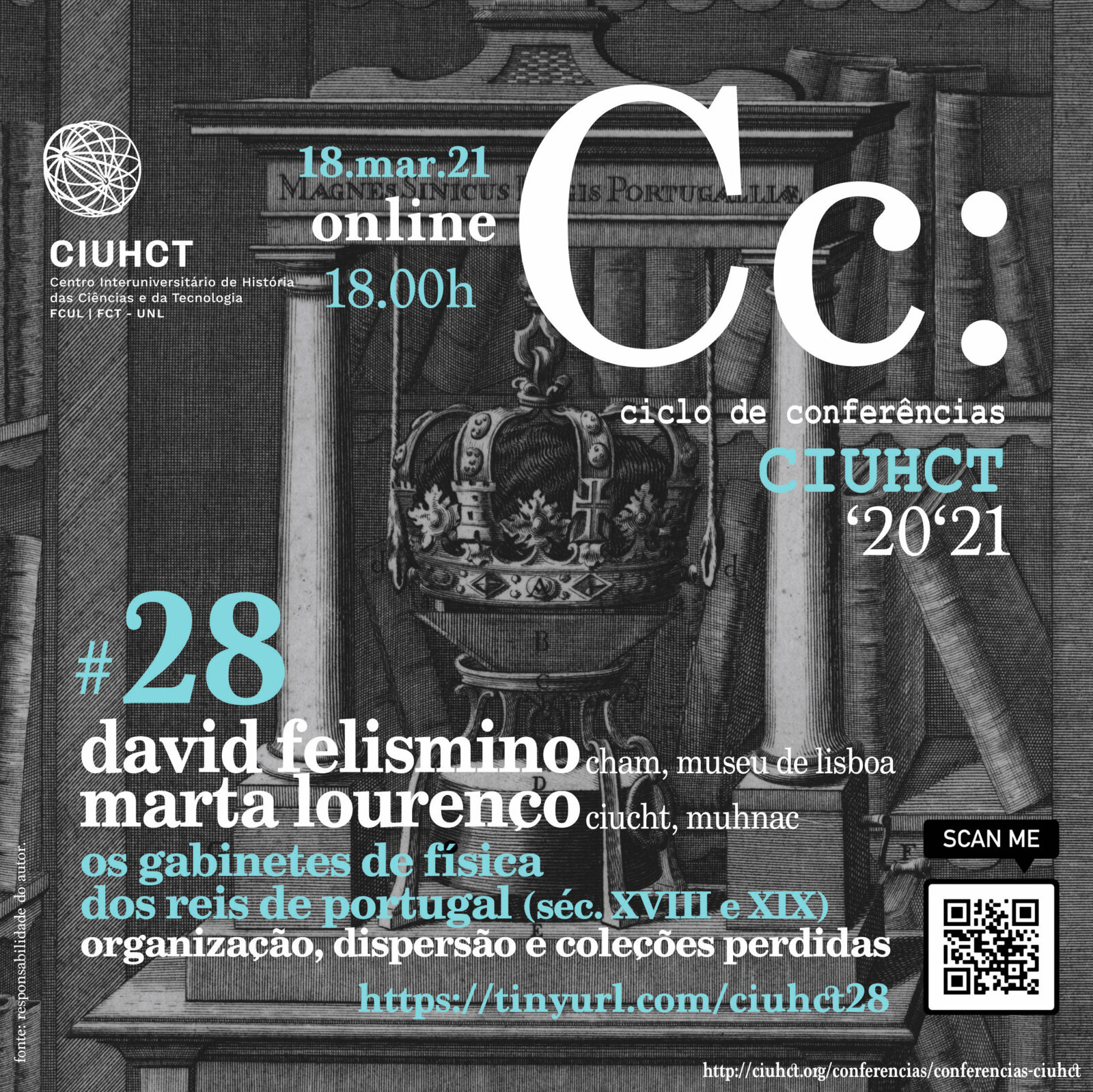 Abstract
The history of the scientific collections of the Portuguese Crown remains poorly known. From the 16th century onwards, important collections of scientific instruments were gathered at royal palaces, as well as natural history museums and libraries, all intended for the scientific instruction of the royal infants and courtly entertainment.
Most of these collections, accumulated until the end of the 19th century, disappeared almost completely, its traces surviving in some instruments, machines and models scattered across national and foreign museums and palaces, and a small number of inventories, records of purchases and payments, and contemporary reports from aristocrats and foreign travelers.
In this work, we studied some of these collections from the point of view of their constitution, organization, use, and custodial history, in particular the Royal Cabinet of Physics of the Necessidades Palace (1747-1847), the Royal Cabinet of Physics of the Ajuda Palace (1765-1857), and the scientific collections accumulated at the Ribeira Palace (1501-1755), namely by King João V, between 1722 and 1750.
about the speakers (in portuguese)
David Felismino é historiador. Licenciado em História – Ramo científico, e pós-graduado em História Moderna pela NOVA/FCSH, e em Património e Projetos Culturais pelo ISCTE. É assistente de investigação do CHAM – Centro de Humanidades. Os seus principais domínios científicos compreendem aspetos do quotidiano, da ciência, e da saúde no período moderno e contemporâneo, tendo publicado livros, catálogos, artigos, e comissariado várias exposições sobre estes temas. Desempenhou funções como investigador e curador no Instituto de Ciências Sociais, na Casa Fronteira e Alorna, no Museu Geológico, no Museu Nacional de História Natural e da Ciência e no Museu da Saúde, tendo sido responsável pelo projeto museológico deste último. Desde janeiro de 2020, é Diretor-adjunto do Museu de Lisboa e membro da atual direção do ICOM Portugal.
Marta Lourenço é investigadora do Museu Nacional de História Natural e da Ciência da Universidade de Lisboa desde 2006, tendo assumido o cargo de diretora em 2019. Possui formação de base em Física (Universidade de Lisboa, 1992), Mestrado em Museologia (Universidade Nova de Lisboa, 2000) e Doutoramento em Museologia e História da Técnica (Conservatoire National des Arts et Métiers, Paris, 2005). Tem extensa obra publicada nos domínios do património cultural das universidades, património científico, e história dos museus e coleções científicas, os seus domínios preferenciais de orientação de alunos e de projetos de investigação nacionais e internacionais. Coordenou o levantamento do património cultural da Universidade de Lisboa em 2010–2011 e em 2015–2016, ambos publicados. É coordenadora nacional do PRISC (Portuguese Research Infrastructure of Scientific Collections), integrado no roteiro português de infraestruturas estratégicas de investigação. É atualmente Presidente do Comité Internacional do ICOM para os Museus e Coleções Universitárias (UMAC).