Ana Viseu in the 2019 edition of "Mulheres na Ciência"
26 February 2019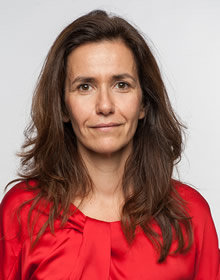 CIUHCT researcher Ana Viseu will be portrayed in the 2019 edition of the book "Mulheres na Ciência" [Women in Science].
"Mulheres na Ciência" is a homage by Ciência Viva national agency to portuguese women scientists. Portugal is one of the countries in Europe with the highest percentage of women dedicated to research, a fact not unrelated to the excellet results that science and technology have achieved in Portugal for the past two decades, with many portuguese female researchers deserving the highest international distinctions. According to the report Diagnóstico do Sistema Nacional de Investigação e Inovação (2013), Portugal, in terms of gender distribution in research personnel among the active population, has a feminine presence (0,88%) above the European average (0,76%). In Portugal, 46% of researchers are women. In spite of this situation, there is a long way to go in making sure that the talent of young women researchers that seek to dedicate themselves to these areas can assert itself and be awarded. We wish the motivations of these Women in Science can inspire young people to follow their vocation and inspire us all to invest in a better world.
In 2016, Ciência Viva launched the first "Mulheres na Ciência" book, presenting 103 portraits of portuguese women researchers, from emerging names to well-established scientists, always with renowned merit and covering different areas of research, from different parts of the country and abroad, including CIUHCT's vice-coordinator, Ana Simões. In 2017 the book was revised and expanded, with the inclusion of 34 new portraits. These photographs were also compiled in a digital module, available in Lisbon's Pavilhão do Conhecimento.
In the next International Women's Day, March 8, a new edition of the "Mulheres na Ciência" book will be released, with a 100 new portraits of a 100 new women scientists. The photographers Augusto Brázio, Rodrigo Cabrita, Gonçalo F. Santos and Rita Carmo will be responsible for the new images.