CIUHCT Lectures
#16. When science (did not) kill the locusts: The Locust Extinction Services between 1899 and 1980
FCT/NOVA, Ed. VII, Sala de Seminários António Manuel Nunes dos Santos
11 April 2019 · 13h00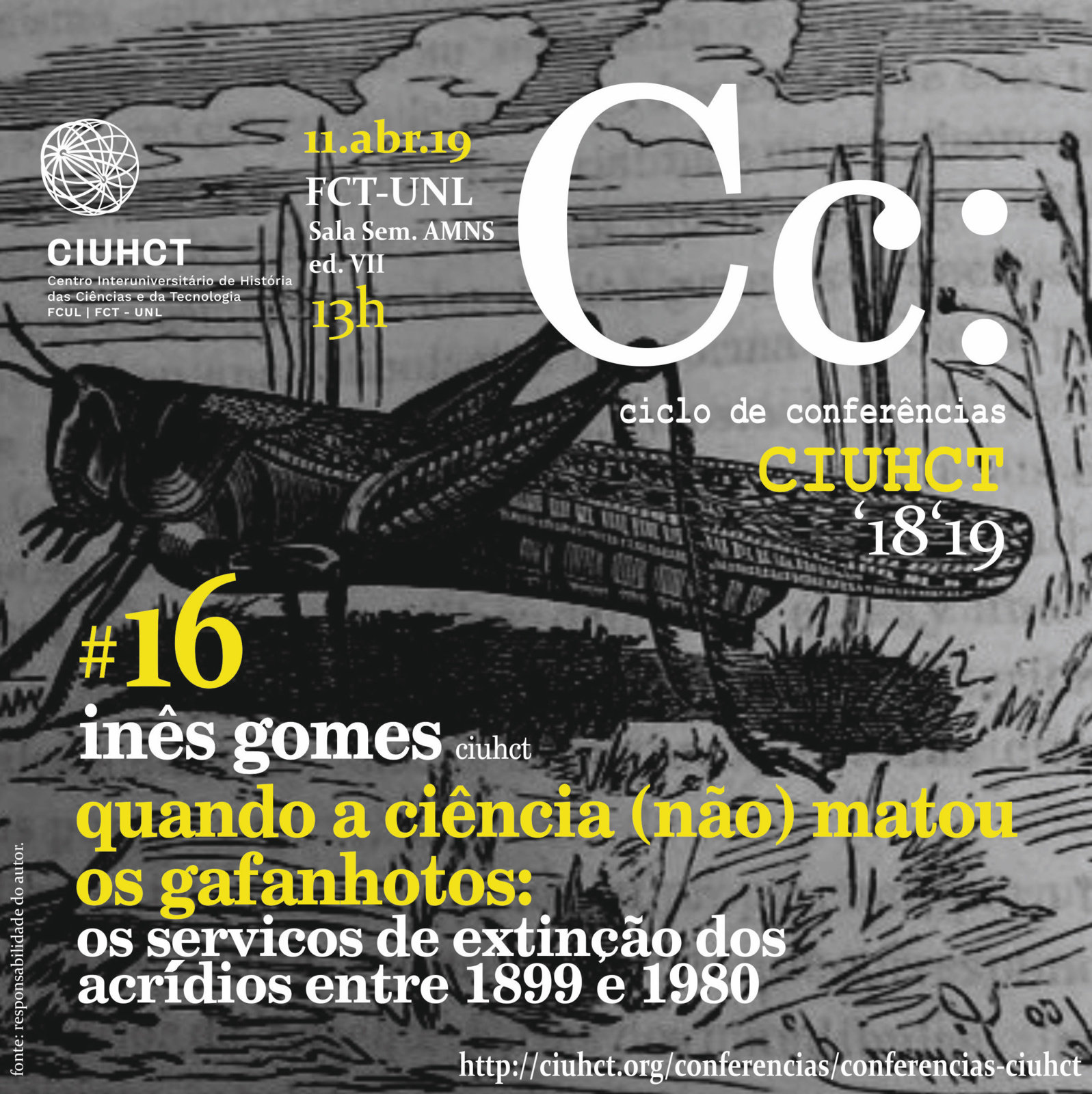 Abstract
Insects that are potentially harmful to agriculture have shaped agricultural practices and policy-making worldwide. Although forgotten, the sudden appearance of Moroccan locust (Dociostaurus maroccanus) swarms - common in North Africa, southern and eastern Europe and West Asia - was a relatively frequent phenomenon in the Iberian Peninsula until the mid-twentieth century, involving the State, agronomists and populations in successive, but mostly failed, attempts to control them. This communication analyzes the Portuguese case, discussing how agricultural policies may have been an enhancer of those outbreaks - and especially of the perception of their risk - as well as the ways and contexts in which science was used to contain losses and extinguish these insects.
[based on the paper: Gomes, I.; Queiroz, A. I. & Alves, D., "Iberians against locusts: fighting cross-border bio-invaders (1898-1947)", Historia Agraria (in press)]
About the speaker
Inês Gomes (CIUHCT / FCUL) has a PhD in History and Philosophy of Sciences (FCUL), a master in Geo-resources (IST) and a degree in Biology (FCUL). She has been a postdoctoral researcher at CIUHCT since 2017.
Her research began in the field of ecology and her PhD focused on the scientific heritage, specifically on the history of secondary school collections of natural history.
More recently, she has been involved in projects in the field of environmental history and urban history of science, particularly in the projects "Introductions, invasions and control measures of plant pests in Southern Europe. An interdisciplinary comparative approach from the 19th century onwards" and "Visions of Lisbon: Science, Technology and Medicine and the Making of a Techno-Scientific Capital, 1870-1940".
CC Collection:18'19
Download abstract (pdf / 1,602.12 KB)