CIUHCT Lectures
Expert Astrologers and Print Culture in the Early Sixteenth Century
Faculdade de Ciências da Universidade de Lisboa, Ed. 8, Sala 8.2.04
20 June 2016 · 15h00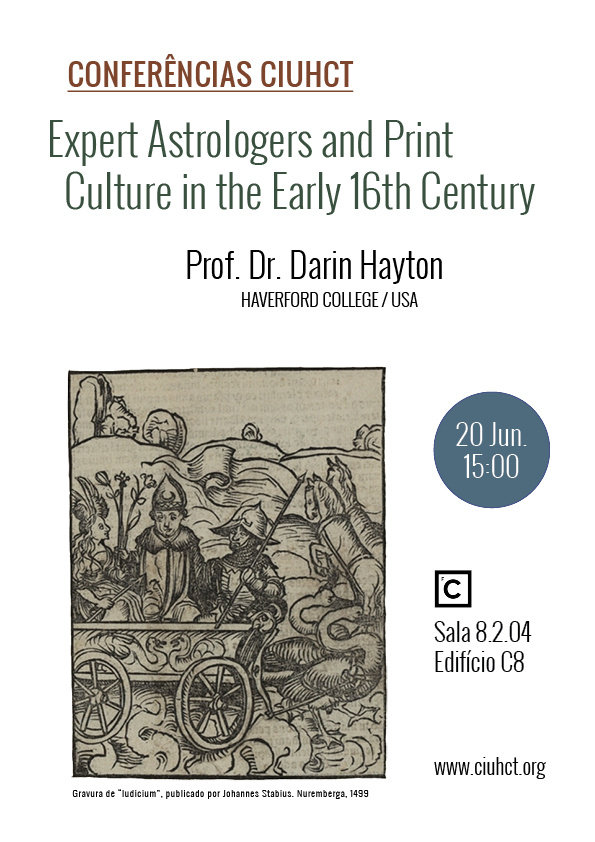 About the talk
Ephemeral astrological texts have presented something of a challenge for historians and especially for historians of science. On the one hand, the astrological content of such popular texts has until recently been dismissed as superstition or pseudoscience, unworthy of scholarly attention. On the other hand, the form of these cheap pamphlets has encouraged scholars to read them as forms of "popular" belief. Both these prejudices have discouraged us from understanding how skilled astrologers used print to demonstrate their expertise both to their patrons and their many audiences. Moreover, other expert astrologers considered print an important intellectual space in which they debated each other. I will look closely at a few examples to try to convince you that we should take a new look at science in print culture.
Biographic note
Darin Hayton got his Ph.D in History in Philosophy of Science at the University of Notre Dame in 2004 and was awarded with the John Highbarger Memorial Dissertation Award. Afterwards he was Research Officer at the Museum of the History of Science at Oxford University. Since 2005 he is Professor for the History of Science at Harverford College, USA.
Fellowships and Grants (in selection):
1999–2000: Fulbright Fellowship (for dissertation research in Vienna, Austria);
2001: Institute for Scholarship in the Liberal Arts Research Fellowship, University of Notre Dame and Wolfenbüttel Summer Institute, Wolfenbüttel, Germany;
2001–2002: DAAD Research Fellowship, Ludwig-Maximilians Universität, Munich, Germany;
2002: Sophia Fellowship, The Warburg Institute, London;
2002–2003: Edward M. and Ann Uhry Abrams Endowed Fellowship, University of Notre Dame;
2003–2004: Graduate Teaching Fellowship, University of Notre Dame;
2007: Renaissance Society of America Research Grant., University of Notre Dame;
2011: "So Many Boundaries…" Recent Ideas and Ideologies on Expertise, A Workshop. Sponsored by Philadelphia Area Center for the History of Science.
In 2015 he published The Crown and the Cosmos. Astrology and the Politics of Maximilian I (University of Pittsburgh Press). Very helpful is also his E-book: An Introduction to the Astrolabe.