CIUHCT Lectures
2023 #2 Marco Beretta (University of Bologna), "A reassessment of Lavoisier's collection of scientific instruments"
[Online]
16 February 2023 · 18h00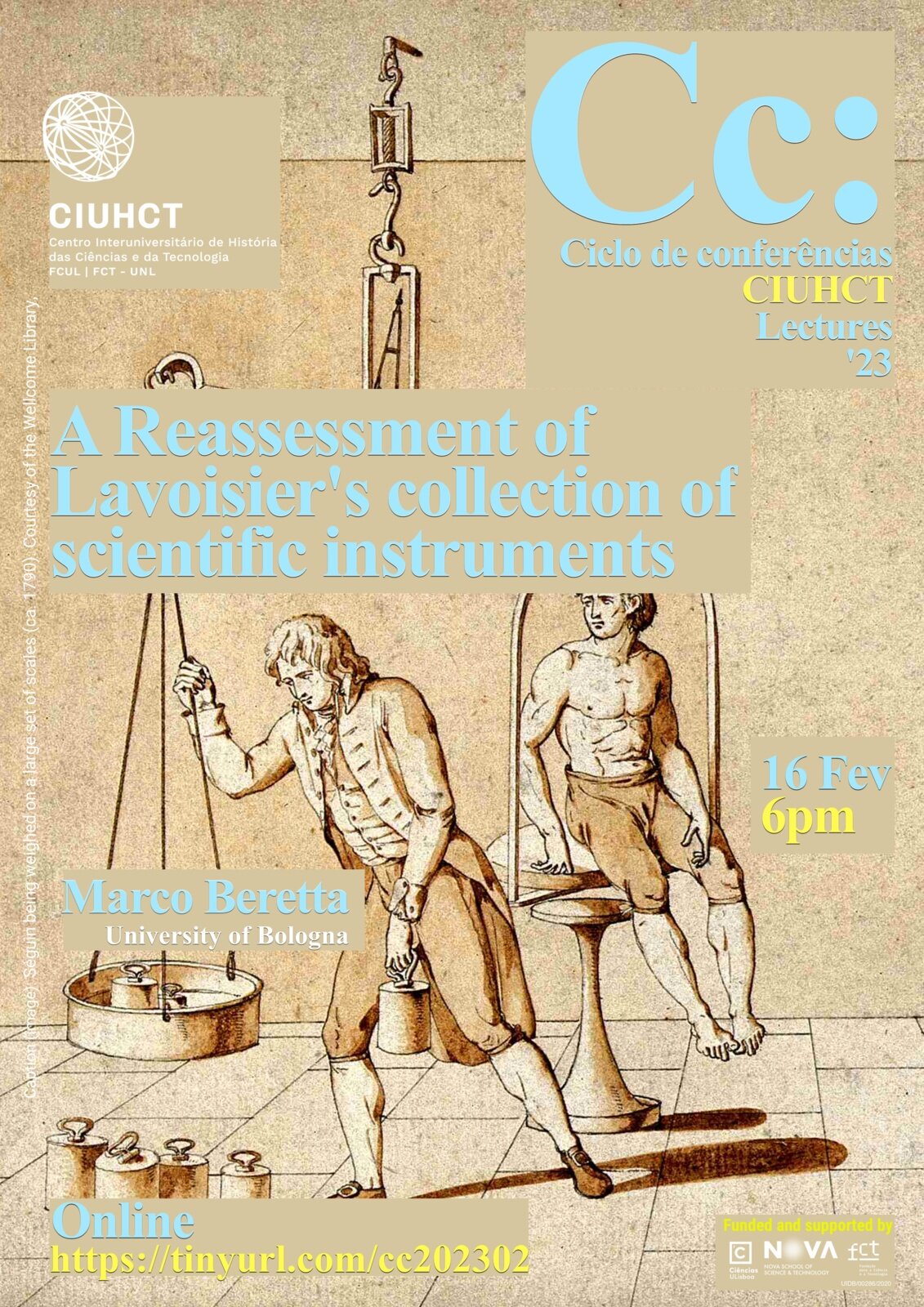 Abstract
In this talk Marco Beretta will discuss the substantial collection of Antoine Laurent Lavoisier's apparatus, no doubt the most important surviving collection of eighteenth-century chemical apparatus and instrumentation. Beretta and the late renowned expert in historical scientific instruments Paolo Brenni (1954-2021) recently published the first scientific catalogue of Lavoisier's surviving apparatus (The Arsenal of Eighteenth-Century Chemistry – The Laboratories of Antoine Laurent Lavoisier (1743‒1794), Brill, 2022). This collection is remarkable not only for the quality of many of the instruments but, essentially, for the large number of items that have survived (ca. 600). Given such a wealth and variety of pieces, this collection offers a unique environment for a comprehensive reassessment of the cultural and social context of Lavoisier's experimental activities.
About the speaker
Marco Beretta is Professor of History of Science in the Department of Philosophy and Communication at the University of Bologna. He has an outstanding international career, reflected in several visiting professorships in France, Japan, Sweden and the US. He is also the author of an extensive bibliography, the editor or co-editor of 17 collections of essays, the editor or co-editor of 5 exhibition catalogues, and the co-editor of 3 published data-bases. Among his many positions and distinctions he was, between 2004 and 2012, vice director of the Museo Galileo, in Florence, and for the past 12 years the editor of an international journal (Nuncius) and co-editor of an international book series (Nuncius series). Since the late 1980s Beretta has worked extensively with large scientific collections in archives and museums. His main scientific interests are the history of early modern chemistry and Lavoisier.
Zoom: https://tinyurl.com/cc202302
Meeting ID: 991 6644 2671
Password: 404147