CIUHCT Lectures
2023 #1 Hannah Marcus (Harvard University), "Forbidden Knowledge – The literary censorship of medicine and science in early modern Italy"
[Online]
19 January 2023 · 18h00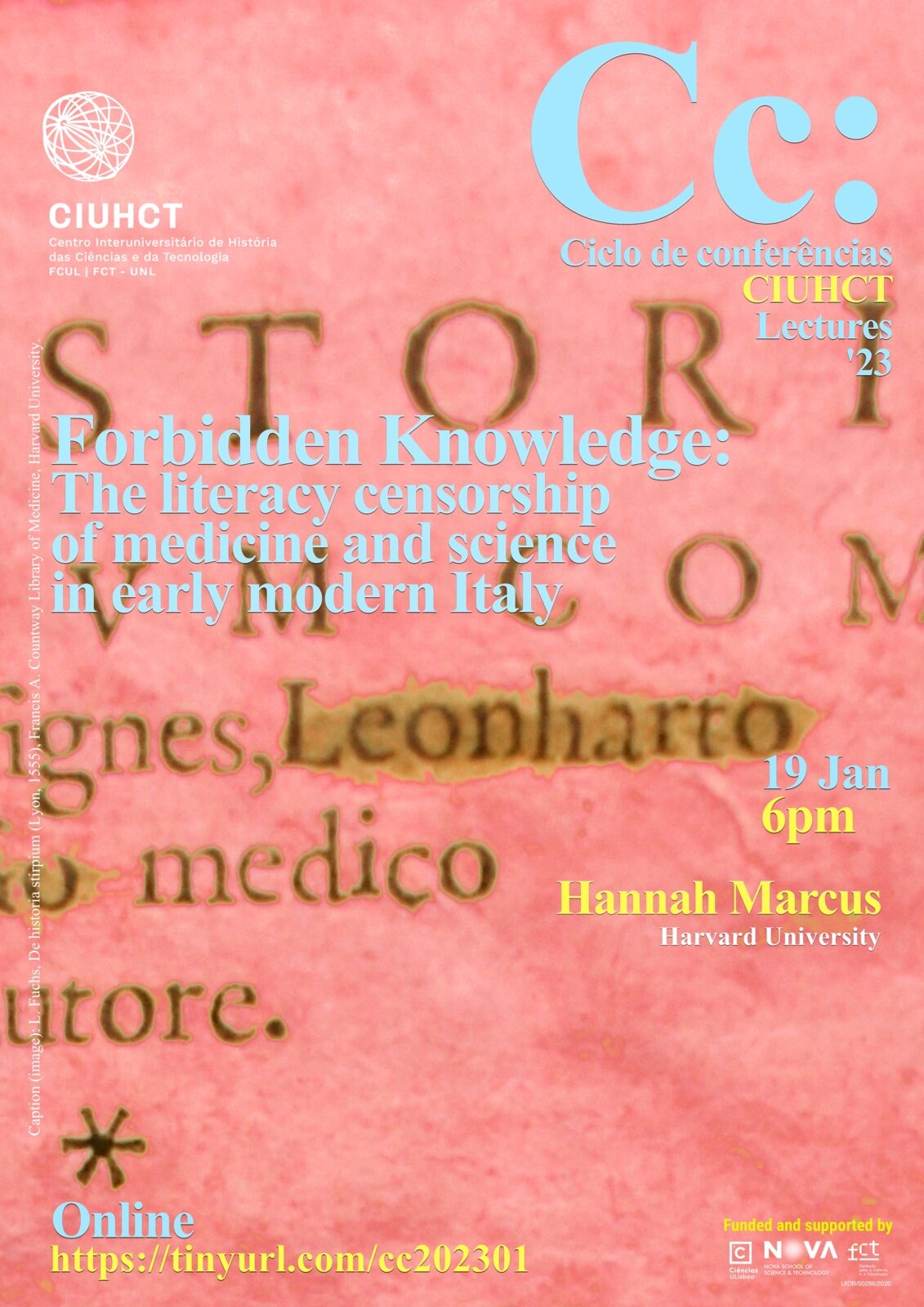 abstract
In this talk Hannah Marcus discuss the themes of her first book, Forbidden Knowledge: Medicine, Science, and Censorship in Early Modern Italy (University of Chicago Press, 2020), which explores the censorship of medical books from their proliferation in print through the prohibitions placed on many of these texts during the Counter-Reformation. She explains how and why the books prohibited by the Catholic Church in Italy ended up back on the shelves of private and public Italian libraries in the seventeenth century. Marcus's book was awarded the Morris D. Forkosch Prize for the best first book in intellectual history by the Journal of the History of Ideas and the Helen and Howard R. Marraro Prize in Italian History by the American Catholic Historical Association.
about the speaker
Hannah Marcus is the John and Ruth Hazel Associate Professor of the Social Sciences in the Department of the History of Science and the Associate Faculty Director of the Collection of Historical Scientific Instruments at Harvard University. Her research focuses on the scientific culture of early modern Europe between 1400 and 1700. Among other projects Marcus also engages in digital humanities research through her work on Galileo, which she has published in collaboration with Paula Findlen (Stanford) and Crystal Hall (Bowdoin). With Findlen, she is writing a book about Galileo's correspondence called Galileo's Letters: Experiments in Friendship, which grows out of their collaboration on The Galileo Correspondence Project. With her colleague Allan Brandt, Marcus directs the new online resource History of Contagion in Harvard Library Collections, which solicits and publishes short commentaries on fully digitized primary source documents related to the history of contagious disease. Marcus's public writing has appeared in The New York Times, The Boston Globe, and Scientific American, among other venues.
Link Zoom: https://tinyurl.com/cc202301
ID: 991 2172 4633
Password: 545524