CIUHCT Lectures
2022 #3 Sandra Swart (Stellenbosch University), "Apartheid's hounds – Inventing the South African Police Dog"
[Online]
17 March 2022 · 18h00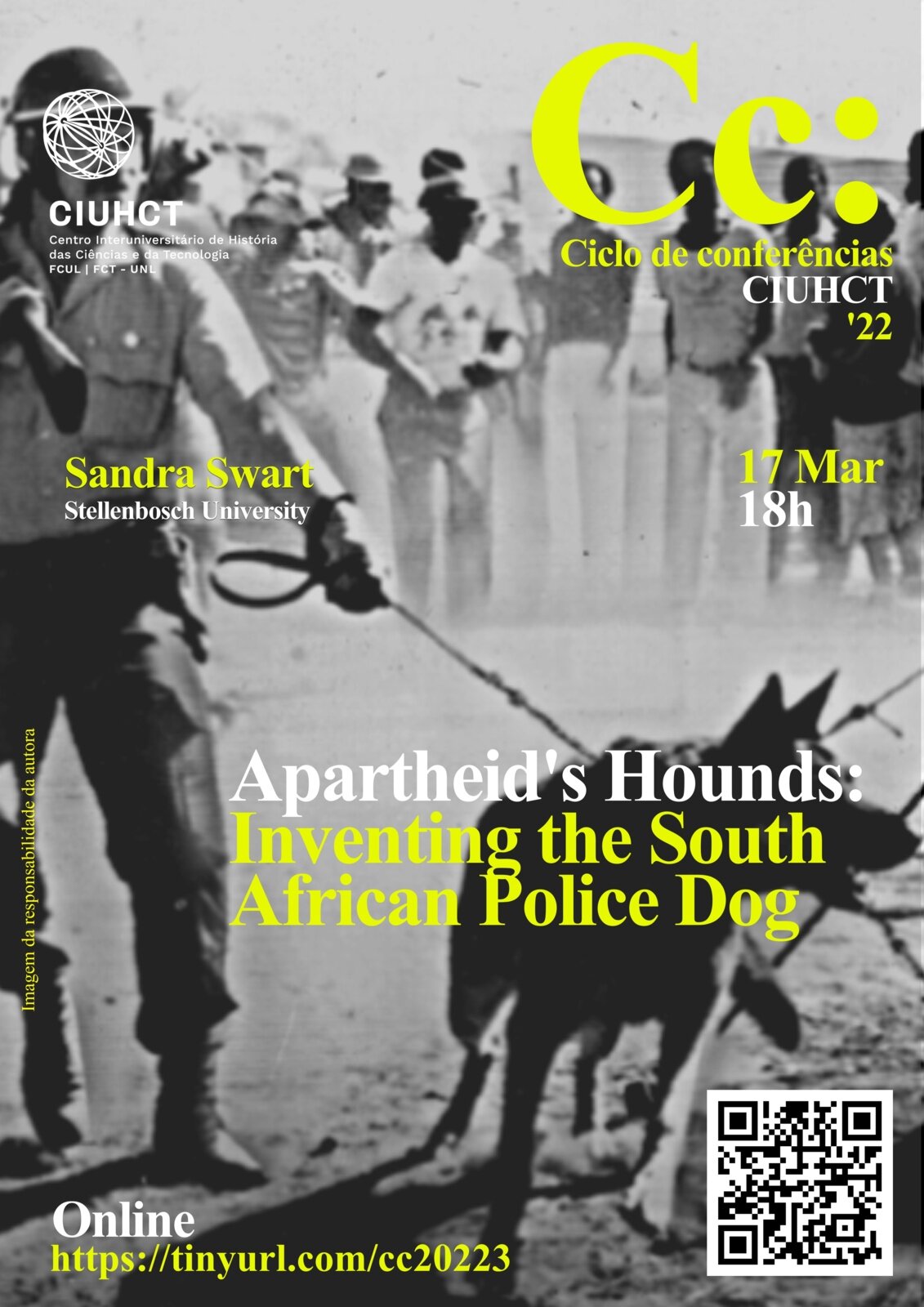 Resumo
There is a long and contested history of dogs' deployment in policing human hierarchies of power. Their uses and concomitantly the traits for which they were valued shifted over time. But from the end of the nineteenth century, dogs were valued for one sense in particular: smell. Using both archival sources and ethnographic material, this essay explores the history of tracker dogs in South Africa's law enforcement, within the changing context of detector dogs internationally. It includes the life histories of a few dogs – Sauer, Maxim, Bosco – to demonstrate how dogs have been very differently trained and deployed in South Africa over time. It looks at the shifting relationship (and the shifting official and public perception of the relationship) between dog and "dogmaster" (or handler). It argues that the public understanding of the dogs' ability was manipulated by the South African state. It analyses how understandings of dogs' policing role and sensory ability changed – not only as the science of smell developed but because of a changing socio-political zeitgeist. It dissects consequential changes in understandings of the admissibility and value of animal evidence. It asks questions about the mutable role of dogs in forensic detection, and discusses contemporaneous understandings of canine agency over the last century. It thereby explores the tension between the idea of the dog as merely an instrument of scent and the dog as sentient individual – detector versus detective. Thus this essay looks at where the dog's nose led humans – both practically and intellectually – in the field and in the court over the long twentieth century. It thus looks at 'sensory history' from a lot closer to the ground than usual.
Sobre a oradora
SANDRA SWART is the Professor of History and chairperson at Stellenbosch University. She received her DPhil in Modern History from Oxford University in 2001, while simultaneously obtaining an MSc in Environmental Change and Management, also at Oxford. She has published on socio-environmental history and animals in history. She co-authored with G. Bankoff, Breeds of Empire, co-edited, with L.van Sittert, Canis Africanis: a dog history of southern Africa (Brill, 2008) and is sole author of Riding High – Horses, Humans and History in South Africa (Johannesburg: Witwatersrand University Press, 2010).