Looking back, stepping forward: Reflections on the sciences in Europe
Autoria

Ano

2020

Periódico

Nº de Páginas

254-267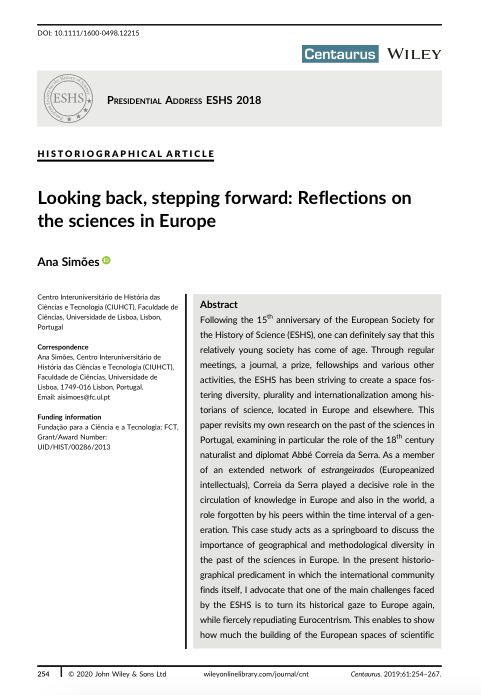 Presidential Address ESHS 2018 de Ana Simões, publicado a 24 de Abril de 2020.
Abstract (em inglês)
Following the 15th anniversary of the European Society for the History of Science (ESHS), one can definitely say that this relatively young society has come of age. Through regular meetings, a journal, a prize, fellowships and various other activities, the ESHS has been striving to create a space fos- tering diversity, plurality and internationalization among his- torians of science, located in Europe and elsewhere. This paper revisits my own research on the past of the sciences in Portugal, examining in particular the role of the 18th century naturalist and diplomat Abbé Correia da Serra. As a member of an extended network of estrangeirados (Europeanized intellectuals), Correia da Serra played a decisive role in the circulation of knowledge in Europe and also in the world, a role forgotten by his peers within the time interval of a gen- eration. This case study acts as a springboard to discuss the importance of geographical and methodological diversity in the past of the sciences in Europe. In the present historio- graphical predicament in which the international community finds itself, I advocate that one of the main challenges faced by the ESHS is to turn its historical gaze to Europe again, while fiercely repudiating Eurocentrism. This enables to show how much the building of the European spaces of scientific practice were never a prerogative of a few regions or a small set of countries, but, on the very contrary, took shape as the result of complex interactions between diverse spaces and cultures, not only intra-European but also non-European.