New issue of HoST — Journal of History of Science and Technology (13.1, June 2019) online
19 June 2019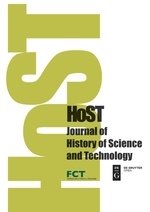 HoST — Journal of History of Science and Technology is a peer-reviewed open access journal, available online, published in English by De Gruyter/Sciendo, as a result of a partnership between four Portuguese research units (CIUHCT, CIDEHUS, Institute for Social Sciences, and Institute of Contemporary History).

Table of contents of volume 13.1
Special issue "Before the Silent Spring: Pesticides in Twentieth-Century Europe", with an introduction by the Guest Editor José Ramón Bertomeu-Sánchez, which presents a critical literature review framing the new perspectives brought by its four(*) research articles, namely by approaching chronologies (first half of the twentieth century), pesticides (before DDT) and geographies (Spain and Norway) that, in general, are not part of dominant narratives.

"Introduction. Pesticides: Past and Present", José Ramón Bertomeu-Sánchez
"Influencing for results: Bees, Beekeepers and Norwegian Pesticide Legislation", Anne Jorunn Frøyen
"Following Hydrogen Cyanide in the Valencian Country (1907-1933): Risk, Accidents and Standards in Fumigation", Ximo Guillem-Llobat
"Arsenical Pesticides in Early Francoist Spain: Fascism, Autarky, Agricultural Engineers and the Invisibility of Toxic Risks", José Ramón Bertomeu-Sánchez
(*) for unforeseen reasons, the fourth article of this special issue, by May-Brith Ohman Nielsen, will only be published in the next HoST issue: HoST 13.2 (December 2019)

An extended abstract of the Distinguished Lecture (CIUHCT) by Thomas J. Misa, about the new techno-cultural digital "era", using the lenses of the history of technology to critically discuss the technological determinism present in some narratives on the Moore's law, "Dominance of the Digital (1990–2016)"
A "work in progress" by PhD candidate Inês N. Navalhas about her ongoing work, "Communicating Science and Technology. Gradiva's Books of Popularization of Science and Technology and the Portuguese Public"
Três recensões de livros
The current chief editor of the journal is M. Luísa Sousa, with Antonio Sánchez and Maria do Mar Gago as associate editors, Jaume Sastre-Juan as book review editor, and André Pereira and João Machado as technical editors. HoST also counts with an Editorial Board, of which Ana Carneiro and Isabel Amaral are members, as well as historians affiliated in other institutions that support the journal and to foreign institutions.