Meetings
Soundscape Campus
Faculdade de Ciências e Tecnologia da NOVA
04 October to 07 October 2016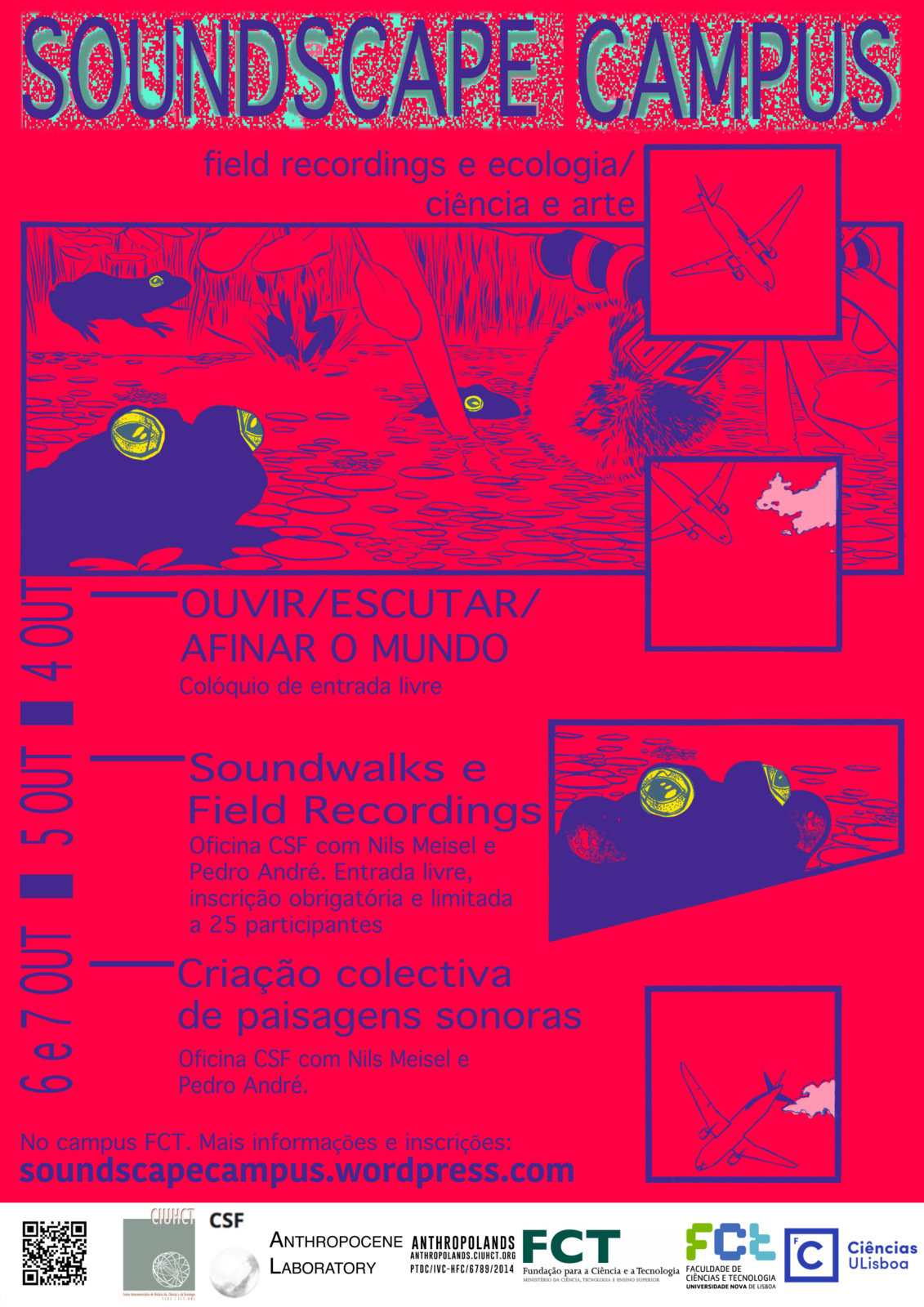 Sobre este workshop
"For twenty five centuries Western knowledge tried to look upon the world; it failed to understand that the world is not for beholding. It is for hearing; it is not legible but audible." — Jacques Attali, Noise, 1976
O Centro Interuniversitário de História das Ciências e Tecnologia e a CSF Workshop convidam alunos, investigadores e docentes da FCT e outras faculdades, para 4 dias de discussão interdisciplinar, práticas de campo e produção artística a partir dos ambientes sonoros do Campus da FCT. Temos por objectivo não só proporcionar esta exploração diferente do nosso campus através do som, como suscitar uma discussão mais alargada em torno do espaço acústico, enquanto fenómeno que nos permite reflectir sobre a nossa relação com o ambiente que nos envolve e as transformações históricas a que está sujeito.
A oficina conta com um dia de colóquio de natureza interdisciplinar, onde serão apresentadas palestras por convidados das áreas da História e Filosofia da Ciências e da Tecnologia, Engenharias e Ciências do Ambiente, Ecologia Acústica e Artes Sonoras.
Os restantes dias serão dedicados à prática de soundwalks e field recordings, não sendo necessária qualquer experiência prévia por parte dos participantes. Seguindo o método da CSF, exploraremos o campus da FCT em busca de paisagens e fragmentos de som que serão posteriormente reorganizados numa peça sonora colectiva.
"Collected sound fragments for an imaginary landscape is a workshop for people interested in sound, with or without previous experience in the area of sound experimentation, electronic music and field recordings. It involves theoretical discussion, presentations and collective field and studio work. We propose to develop a sonic narrative by mapping the sounds of the location where it will be taking place.
The participants will be asked to wander through the surrounding area, listening and collecting sounds with different characteristics, gathering "memory fragments" from specific zones. After this first moment of recording we will listen to the sounds collectively and reorganize them in order to construct a sono-cartography that will function as a reference for the development of fictional/metaphorical narratives for specific areas. During this process we will foster group discussions regarding different techniques used to organize sound, suited to the particularities of the piece that will be developed. This narrative may take many forms, and its interpretation might be concrete or abstract and conceptual". – CSF
Item relacionado